Honeymoon Package
The Honeymoon Tour: Eight days of Island Hopping in the Gulf of Thailand, catered to your fantasy.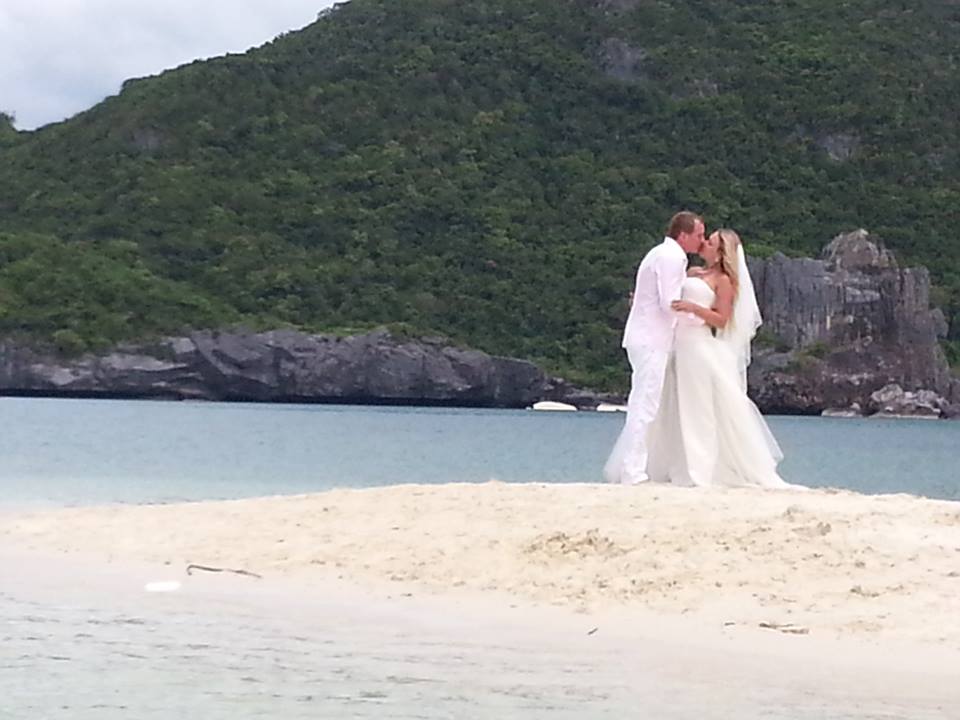 Come and enjoy this romantic sailing adventure with your sweetheart on our 52ft yacht that sails by the name of Independence. She is skippered by the Italian Captain Luca who has over 25 years of experience on the sea. Alongside Luca is the lovely hostess, Nok, who has been hosting in the yachting industry for 10 years. Independence is Little Italy in the Thai gulf; you can expect excellency in service, quality and luxury, with an exciting twist of adventure.
Hiring a private sailing yacht charter is the most romantic way to travel. In the age of jet planes and bullet trains, sailing is a chance to slow down. As sailors, we travel for the sake of the journey; the ocean, the stars, the sun and the time we spend with our loved ones. Some couples might choose a hotel with a breakfast buffet for their honey moon; you may choose to celebrate yours on the open sea onboard a private yacht.
Onboard the Independence your decadent honeymoon dream will become reality. You'll have your own private restaurant on the sea, sleep in the spacious stateroom, and sip champagne for breakfast. You'll have entire islands to yourselves and on our luxury yachts, you'll get there in style. 
As this is your dream honeymoon, you can choose to bring along any resource you like. Take a massage therapist, bring a private photographer, or a diving teacher if you want to get active. In the paradise of the Koh Samui archipelagos, savour your ultimate romantic honeymoon and all the indulgences you desire. Our crew will arrange everything, and you and your love can relax and enjoy the ride.
Day 1: Pick up in Koh Samui at 10.00 and set sail at 11.00 to Koh Pha Ngan.
Elephant Wedding Ceremony: this will give you an opportunity to have a 30 minute photo shoot with the elephants on the beach. We will provide you with a wedding dress.
Your luxury honeymoon begins here with our welcome drink and canapé buffet. We set sail for Koh Phangan after you check in and we go over our safety briefing.
Koh Phangan is an island located seven nautical miles north of Koh Samui. This island is known for its magical atmosphere and incredible landscape and views. We will be mooring on the sea at Gypsies' beach for lunch and later carry on for Haad Than Sadet beach for the fresh waterfall excursion. Before sunset we will be mooring again, this time in one of the more tranquil bays called Ao Thong Nai Pan. Here there is an accessible mountain trail that leads to a private spectacular panoramic view that stretches as far as your eyes can see. This bay is the nicest on the East Coast, and lesser known, providing an intimate and romantic experience as the sun sinks beneath the water. After sunset there is a very charming beach bar called Flip Flop Pharmacy where you can enjoy your first mouthwatering appetizer before your dinner reservation at the famous Thai BBQ restaurant. After dinner Sabay Bar waits for you; here you will experience an incredible fire show on the beach.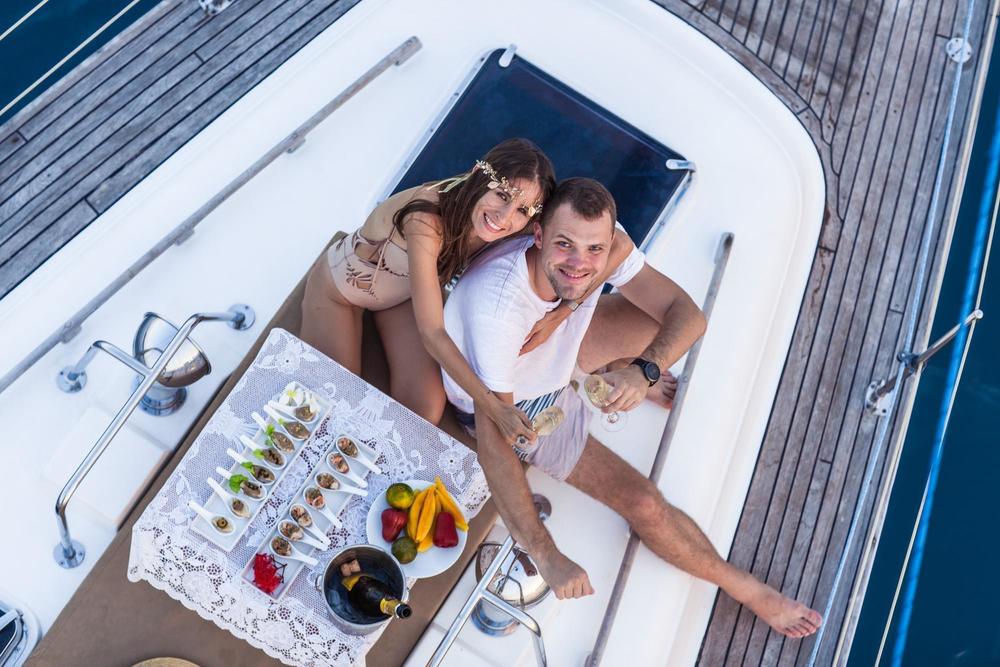 Day 2: We set sail for Koh Tao.
After breakfast we set sail at about ten o'clock to Koh Tao, depending on your chosen morning activity. Koh Tao is 25 nautical miles Northwest and is known for its exceptional diving and relaxed atmosphere. There are stunning dive and snorkel spots suitable for both beginners and extreme divers. We work with 5-star dive centers to provide excellent service and safety.
On our way we will be stopping at Shark Island for a snorkeling adventure. This island is located a half mile from Koh Tao with deep water ideal for diving. In the middle of our route we will be have lunch and our next stop is Mao Bay for beach and lounge time. Our mooring bay for the night is Hin Wong. This is a gorgeous bay with a private little beach and snorkeling facility that is very quiet in the evenings. Located here is a charming resort on the rock and a tiny beach bar for the first cocktail and dinner at the restaurant on the rock. This is the ideal location for stargazing.
Day 3: Cruising around Koh Tao.
In the morning after breakfast we take a 4x4 taxi excursion to the island. After lunch we sail around the island and we will be mooring in some quiet corners and carry on to Banana Rock for the night. Enjoy appetizers at the Bamboo House while the sun sets and the colours dance upon the water. Here we will go for dinner that has been booked especially for you and your sweetheart on the special terrace of the restaurant.
Day 4: The Diving Adventure
After breakfast we will have a recreational diving experience. Our yacht will cruise to this spectacular dive spot. You will learn how to use the diving equipment first and then enjoy an underwater tour to a maximum depth of 12 meters, under the supervision of the dive master. You will see what it feels like to breathe underwater in the half day Discovery Scuba Diving Course. So you do not have to worry, the crew has everything under control and safety is the primary concern. There might even be a Whale Shark waiting for a meet and greet if we are lucky enough! April and May are the best times to spot these wonderful gentle giants. We sail to the May Beach Club for drinks and DJ music on the beach before dinner. For dinner we have a booking for you at the best Italian Restaurant in Samui, Rossini.
Day 5: The Micro Island Archipelago
We set sail in the morning at 08.00 for Ko Ang Thong, about 20 nautical miles southwest. Today we have an early start so we maximize our stay around the archipelago. Our stylish yacht will gracefully take you around the 30+ micro islands and we will get to explore a few. We will be planning our program in a way that we avoid the tourist groups in the region so you can relax and enjoy your exploration in peace. This is Paradise like you can only imagine in your wildest dreams. Breakfast will be served when you join us on deck. Today we have a long sailing day so why not try to steer and navigate the boat yourself? Feel the breeze in your hair and the rush of adrenaline you get when steering a yacht on the open seas. This part of our journey will be the ultimate relaxation. Deserted islands are waiting to be discovered; apart form a tiny fishing community we will hardly see any people as we have designed our tour in a way that we avoid the crowds. First stop at Ko Nai Phut for cave discovery in a small dinghy and for lunch stop on a secluded island for a beach picnic. In the late afternoon we will go on the magnificent Emerald Green Sea lake, a stunning contrast with the Archipelago. Dinner tonight will be at a Thai restaurant at the base of a gorgeous view point.
Day 6: Trekking at Ko Wua Ta Lap
This will be a special morning at Ko Wua Ta Lap; we will go trekking to the view Point to see the stunning view of 50 islands nestled together in an archipelago, with the backdrop of the clear blue sea. On the way to the view point, you can play with the funny monkeys that live in the forest. Enjoy breakfast at the restaurant and a short visit to the tiny Marine Park museum. With a 20 minute walk, you can go to discover a cave, which is a very interesting geological activity. The we set the sail to the biggest island, Ko Phaluai; inhabited by sea gypsies who still earn a living from fishing. We will have dinner on board the yacht and a nighttime fishing experience.
Day 7: The Famous 5 Islands
Set the sail to South of Samui, 18 nautical miles away. We wo cross the famous 5 islands and stop for lunch in Koh Ten bay. In the afternoon we will go on the Mangrove forest trial discovery and in the evening, we will be enjoying dinner at the BBQ sea wood pier restaurant while enjoying the last sunset of our tour in the background.
Day 8: The Last Day
After breakfast we will cruise around Koh Ten and then stop at the beautiful white sand beach of Koh Madsum, which is a practically deserted island. We will set sail for a slow final cruise to the east of Samui and see the beautiful natural rock formation of Lamai. At 17:00 at Choen Mon beach we will anchor for a beach Thai massage before sunset, the we will have booked for you a special dinner gazebo on the beach with a breathtaking fire show.
This signifies the end of our Honeymoon Trip. This will be tailor made to fit all of your needs and requests. We aim to make your special honeymoon the most beautiful and unforgettable experience you could ever dream of.
Koh Samui is the most popular island in the region and has all the luxury any tropical paradise could offer: high class resorts, amazing beaches, good restaurants and much more. Koh Samui has also an airport. We are at your assistance if you need anything organized. Our program is totally adaptable, based on you and your sweetheart.
What is included?
Transfer from your hotel
Public Liability Insurance 
Skipper (Italian) & hostess (Thai) & guide (English speaking)
Fresh towels and beach bag             
Changing room & hot shower
Water sports equipment: mask, fins, fishing rods
Dinghy 3.40 m. 15 Hp
Welcome drink: Butterfly Pea Flower Tea 
Welcome flowers for the ladies 
Snacks, fruit, soft drinks
Open bar: beer, house wine
Appetizer: Independence Cocktail 
Lunch: Avocado Crab Cake, Snapper Sicilian style, 
Tiramisu Cake, Chocolate shot
Sunset Finger Food: Prawns, Salmon, Tuna 
One bottle Prosecco of Treviso Italy 
Bluetooth speaker: JBL
Gopro video, Photos at request
Internet hot spot access
Marine Park fee
VAT included  
Activities on board of
the Independence
The following list shows only some of the activities we offer on board of the Independence:
Take the helm and learn to sail
Snorkeling / Diving
Trail Fishing
Guest trailing (fun hydrotherapy massage)
Pull me up along the 20 meter mast
Fine Dining
Dolphin and whale shark watching
Relax on private beaches
Wedding romantic sailing
Sailing in heavy weather conditions (only for experienced sailors)
If you have special wishes we are always willing and try our best to serve any of your requests.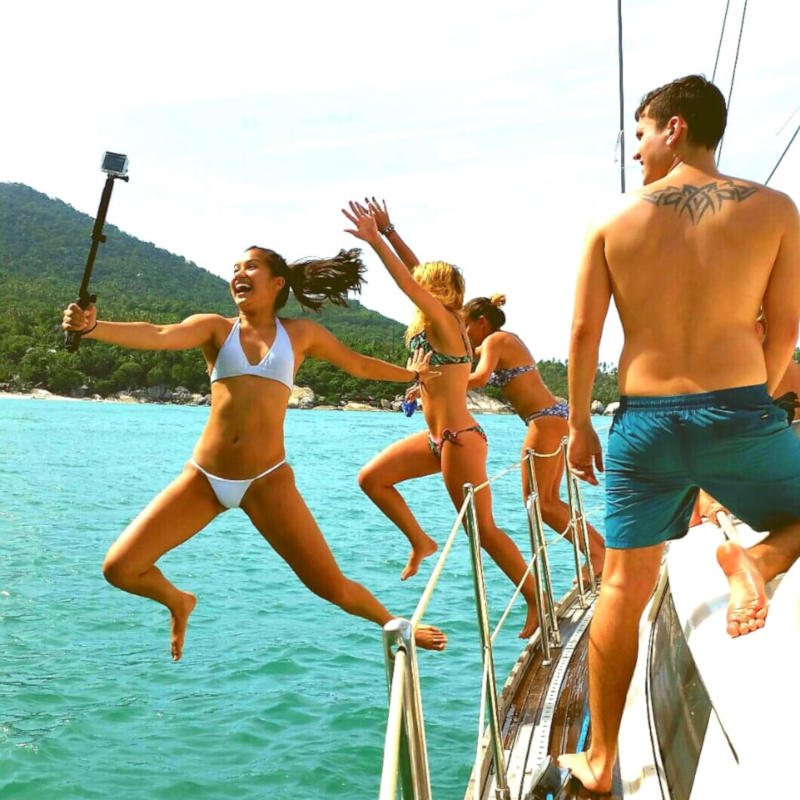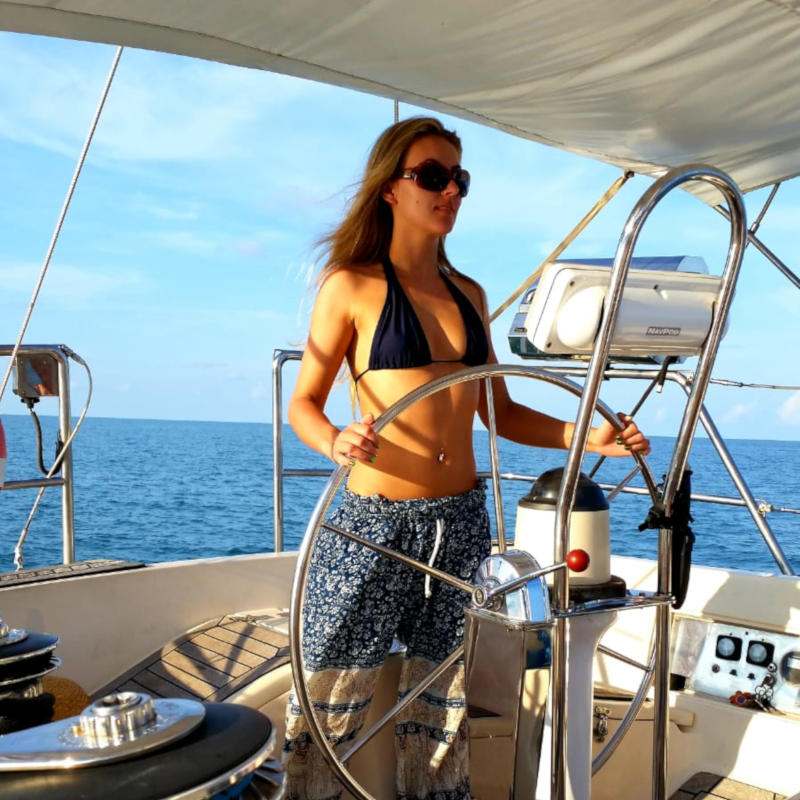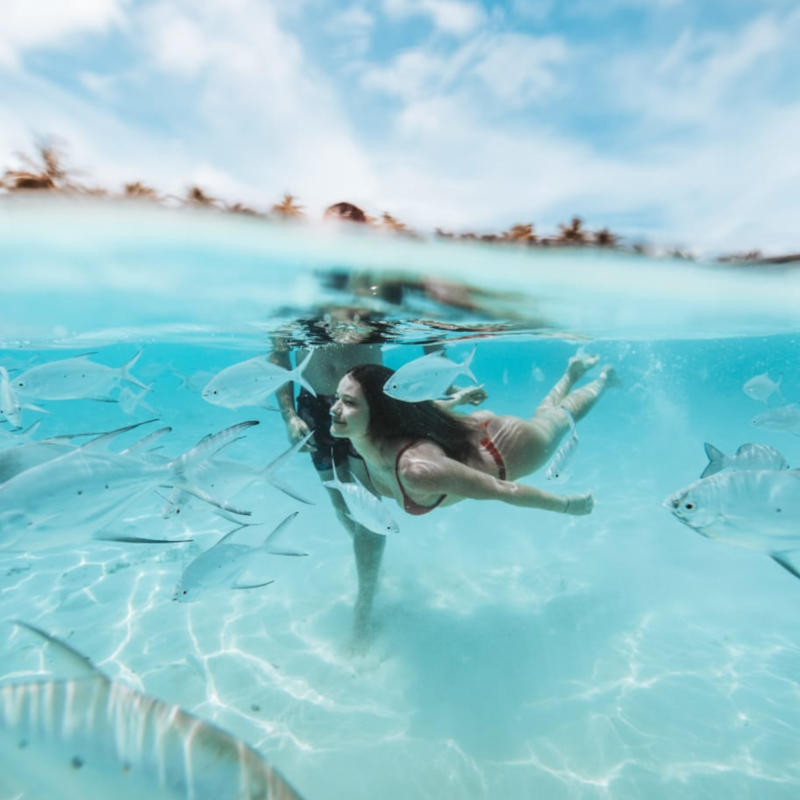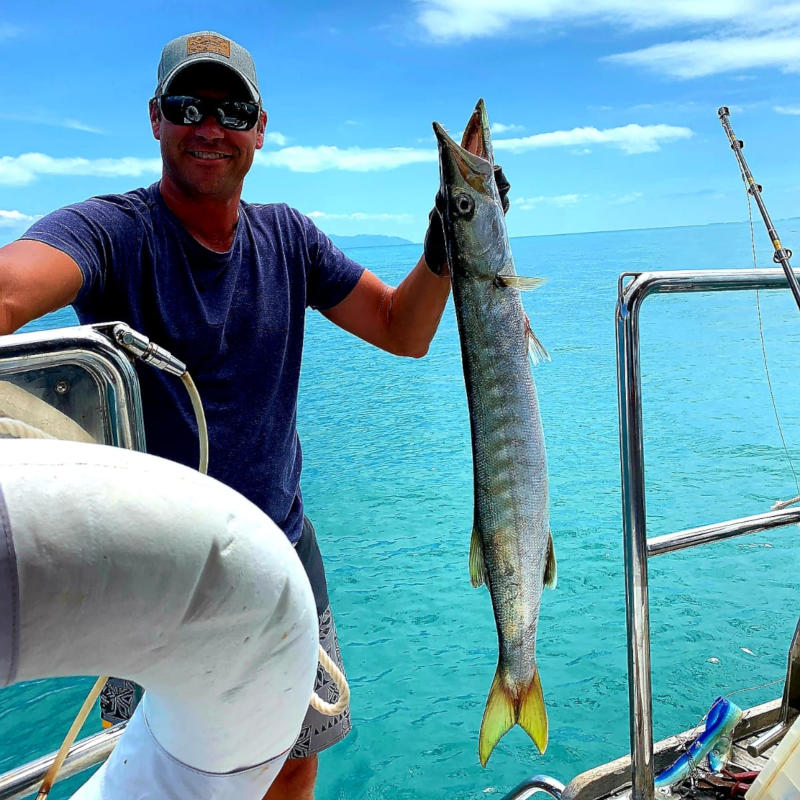 Book now or contact us for further information
Please note: We speak English and Italian.
Payment and Cancellation Terms
All prices include 7% VAT
Full insurance coverage
On Day Tours:

Full payment necessary prior to departure
Cancellations less than 24h before the tour are subject to a 50% cancellation fee of the total amount
Cancellations the day of the tour will be charged full

On Overnight Tours:

2 months before the begin of your cruise: at least 50% of the total price to secure the booking
until 2 weeks before the begin of your cruise: 100% of the total price.
Cancellation up to 2 months prior to the cruise: 50% of the total booking price.
cancellation 2 weeks before up to the day of the trip: 100% of the total booking price.

All payments must be made by cash or bank deposit to Samui Sailing Yacht Co., Ltd.
The company reserves all rights to change the itinerary depending on the weather and sea conditions
Please note that moving trip dates or changing customers on board is possible without additional costs. So instead of cancelling your trip just contact us to reschedule.
Making your holidays unforgettable
Sailing around Koh Samui, Koh Phangan and the Angthong National Marine Park is our business. Discover our offers or contact us directly with your questions.
Contact us now