About Independence Sailing Yacht Charter
The Independence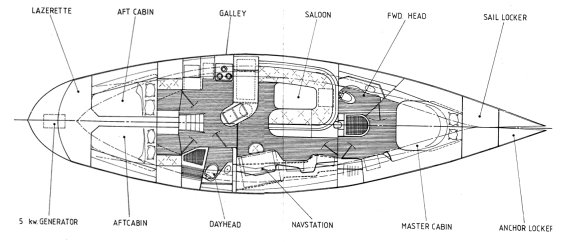 Welcome aboard the Independence. Designed by Dough Peterson, this 52-foot sail sport legend one of the largest sailing yacht in Koh Samui. Her interior is made up of solid Burmese teak wood, Italian Alcantara fabric cushions and a galley with a black granite top. She is a luxury experience second to none with her 3 spacious cabins complete with double beds, and a fully equipped salon for couples, families, and groups of friends. Independence is rigged to go around the world so you can rest comfortably knowing that she will safely bring her guests around Koh Samui and its stunning surrounding islands such as the Ang Thong National Marine Park, Koh Phagnan and Koh Tao. Whether you choose a sunset cruise, a full day trip, or an overnight charter, you are assured to have the most extraordinary experience you fancy; this is your indulgent opportunity to relax and unwind, and to be lavished aboard the luxurious Independence out on the open seas complete with 5 star treatment and authentic Italian cuisine.
Highlights:
52 feet luxury sailing yacht
Built at the Hans Cristian yard
Designed by the marine architect Daught Peterson (Winner of the America's Cup Lloyds certification class A
Interior designed by Italian designer architect Melania Perini (granite kitchen tops, Solid teak interior, Alcantara cushions)
Onan generator 6.5kW
Fully airconditioned
Electric toilets
Illy Espresso machine
Specifications
SAFETY
GPS, VHF radio, Chart plotter
Gas, carbon, monoxide alarms
Flame extinguisher blank
Fire extinguisher
Visual sound signal
Medical kit
Life jackets and life rings
Basic Facts
138 HP Isuz4 Marine Turbo Intercooler Motor
Onan 6.5 kW 220V generator
Day maximum 12 passengers
Night maximum 6 passengers
Maximum speed 9.2 knots
Cruise speed 7 knots
Creature comfort
1 King Room: with private electric toilette, hot shower, air dryer, air conditional 7000 BTU, 40 inch TV, 220V plug and fan.
2 Queen Rooms: with shared electric toilette, hot shower 220V plug and fans.
Living Room: Large Alcantara sofa and table for 8 persons, air condition 16000 BTU, LCD 40 inch TV, DVD/CD player and JBL extreme.
Gallery: Espresso coffee machine, bar, kitchen, oven, microwave and refrigerator 170l.
Upper Deck: 4 double cushions, 2 Bimini, iPad Pro, JBL Boombox and BBQ.
Water sports and other activities: Dinghy 3.60, Yamaha 15 HP, 6 fishing rods for trolling and big game fishing and 2 green lights, snorkeling mask and fins.
Kids Entertainment: TV, iPad Pro, video cartoons, kids toys, mask & fins.
Details
C52: HDRYOSTATIC
L.O.A.: 51′ 6″
L.W.L: 41′ 2"
DRAFT: 6′ 11"
BEAM: 14′ 0"
BEAM W.L. – LENGHT W.L. RATIO: 29%
WATER TANKAGE: 180 GALLONS
FUEL TANKAGE: 150 GALLONS
SAIL AREA FORE SLOOP: 1036 SQ. FT CUTTER
SAIL AREA FORE SLOOP: 1296 SQ. FT
DISPLACEMENT: 42.350 LBS
BALLAST DISPLACEMENT RATIO: 37%
BALLAST: 11.500 LBS
SAIL AREA DISPLACEMENT RATIO: 16.7
FREEBOARD FORWARD: 4′ 9"
FREEBOARD AMIDSHIP: 4′ 2"
FREEBOARD AFT: 4′ 3"
ASPECT RATIO FORE: 3.08, AFT 3.12
BRIDGE CLEARANCE: 65′
POUNDS TO INCH IMMERSION: 1.650 LBS
MOMENT TO TRIM 1 INCH: 2050 LBS
PRISMATIC COEFFICENT: 54%
HULL SPEED: 9,4 KNOTS
PROPULSION NISSAN: 60 HP
PROPELLER: 25″
DISPLACEMENT/HP: 481
KEEL: LEAD & ANTIMONY
The Skipper Luca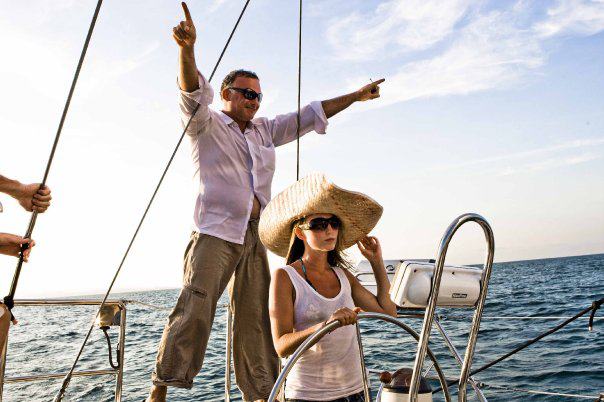 Meet Captain Luca from Venice, Italy – a city known for its food culture and hospitality. Luca's true love is sailing, and producing fine food is a close second. He has over twenty-five years of experience under sails. Luca is our Senior Skipper with knowledge of Mama's secret recipes and is well known on Samui for having the most exclusive Italian dishes. This authentic food is cooked for his guests aboard the Independence. It is for this authentic Italian taste and unparalleled hospitality and luxury that some people claim the Independence to be the "5-Star Bed ad Breakfast of the Gulf of Thailand."
Luca guarantees your needs are met while you relax in the cool breeze and enjoy the beautiful scenery of the Koh Samui archipelago and beyond. Luca has extensive knowledge of the region and excellent sailing skills to ensure your safety and peace of mind. On our trips we combine fun and speed with luxury and spacious comfort. We have English and Italian speaking crew.
Independence Yacht Charter:
The luxurious sailing yacht offering exclusive cruises and charters complete with authentic Italian & Mediterranean cuisine As someone enjoying a holiday on Koh Samui, you already know luxury and style. We invite you to include an unforgettable experience on our luxury sailing yacht as the perfect addition to your trip.
We offer a windswept sailing day cruise to the stunning islands around Koh Samui, including the breathtaking Ang Thong National Marine Park, which sits over an island archipelago and features forested peaks, scenic views and abundant wildlife.
Whatever your special occasion we aim to cater to your every wish and offer suggestions to maximize your nautical experience. We sail near and far; from half day trips on a luxury boat among the islands surrounding Koh Samui to chartered overnight cruises of up to two nights on Koh Tao.
We design unforgettable romantic experiences for couples and newlyweds; we welcome groups of friends who want to relax and indulge while on the open sea; we also are a family friendly yacht charter and offer many exciting adventures for families.
The Packages & Itinerary
Our crewed private charter offers unique tailor-made packages, based on the needs and requests of our valued customers over the many years of sailing together. We will make an itinerary based on your special individual needs and accommodate for whatever luxury you fancy. Your tour can include a half day or a full day, overnight or holiday packages.
We highly recommend a romantic sunset yacht charter. We have a reputation among honeymooners and romantics that this is the most intimate and luxurious way to experience the magic of the open seas. The most booked is the Happy Birthday package with complimentary Italian cake, Prosecco and yacht decorations. Couples swoon and groups of friends rave and sigh as the sun sets and the boat floats and the sky is afire with orange and purple. There is no sunset like there is in the Gulf of Thailand.
We also highlight Ang Thong National Park as a peak destination. The sailing conditions are particularly superb here, with warm waters, natural tropical beaches, and over forty islands included in the archipelago. We recommend exploring this pristine paradise with one of our luxury yachts on a private tour. Here you can relax among the tranquil bays or if you opt for more adventure, you can snorkel, dive, and kayak through the towering limestone cliffs of the Marine Park. There is delicious local Thai cuisine available here, served in a range from beach style to more sophisticated restaurants.
You may fantasize about exploring the natural cliffs of Thailand underwater, and if that is the case then we recommend Koh Tao as the perfect diving trip. With visibility of up to thirty meters you will witness the extraordinary sea life and breathtaking underwater world, including the frequently spotted whale shark.